This is Tony, my Red Lored Amazons
Written by my daughter....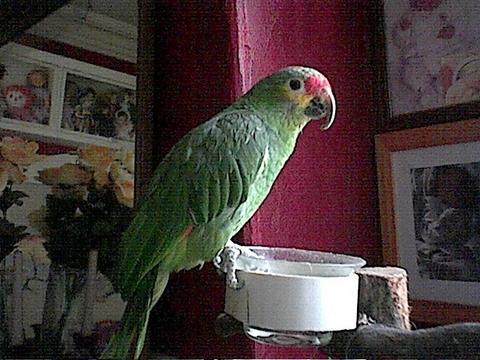 He is about 8 Years Old. He came with a mate, and had been in two other homes one one year before comingto us. But his mate tried to kill him, wouldn't let him eat, and was always beating him up. He would sit alone in a little part of the cage scared because of his mate. Even after we moved him out of that cage and into one of his own, all he had to do was hear her and he'd start shaking, so shc got a new home, and Tony moved up to my room. He loves to sit outside his cage and watch tv and going up and down from his food bowl eating his cheese crakers. When I leave the room, he starts calling for me He doesn't like to be alone.I tell you what! He is a sweetheart of a bird and I am lucky to have him.
The Red Lored Amazon is known for be extremely affectionate and beautiful. On rare occasions some Red Lored Amazons have been known to become aggressive due to jealousy. Most Red Loreds are excellent talkers. Wild Red Lored Amazons are found in Central America.Your Red Lored Amazon needs a wide variety of food. They need pellets and seed mixes, fresh fruits, vegetables, and table food. Your blue-fronted amazon will show distinct preferences, but you must take control. A grey will gorge on Sunflower seeds to the neglect of more nutritious food. greys need extra calcium, as they are unable to store it in their bones. Oranges, collard and/or mustard greens, and cooked broccoli are excellent dietary supplements. Take special care not to over feed your green cheeked amazon. They are extremely affectionate and will use their charm to convince you to over feed them. They like to eat and are prone to obesity.
..................................................