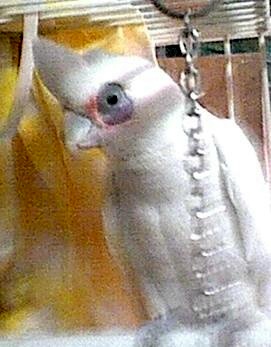 This is Lucy
She is a Bare Eyed or Corella Cockatoo. They look similar to the Goffin's Cockatoo, but a little bigger and obviously they lack feathers around the eyes. Some think Bare Eyed Toos are ugly, but we think she is very pretty.
She is 8 years old and had produced, hatched, and raised one clutch until they were taken for hand feeding.
Her mate died and the breeder sent her to stay
with us at Wind Dancer Aviary or "That Bird Place" as it is known on the web.
She is very friendly, though she does not like handling yet. She was a hand fed baby, so it will not take much to make her a trusting pet. Bare Eyed Toos are not as loud and demanding as other species of Cockatoos.
Lucy is very calm and enjoys lots of toys. She is a picky eater, but we have gotten her to eat some new things while she has been with us. She is very curious and loves to call to us and chat with us when we are in the bird room. We have not heard her say anything, but believe she is trying to "good night." ........UPDATE, so we thought! I was in the bird room feeding and cleaning and Lucy began saying, "Hello, Hi, Huh? Come Here!"
She doesn't have any bad habits.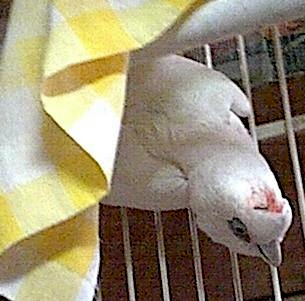 *******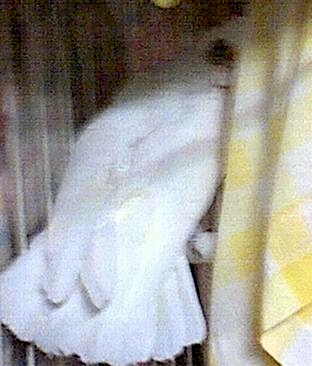 Lucy loves to play in her make-shift tent.
See how pretty her tail is?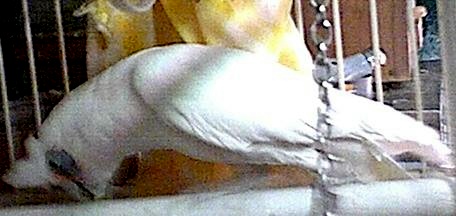 Lucy dances back and forth on her perch and shake her head up and down when she hears music or commercials on tv.
We are looking for a special home for Lucy. A home where folks understand how Cockatoos are, and one that is ready to make a long term commitment to Lucy. We will not let her go to a novice. We are looking for someone who is experienced with avian pets/large parrots. Once you have done the research, and we ask that you do, and would be interested in bringing Lucy into your forever,and non-smoking home, you can let us know and we'll discuss things.
If you would like to contact Lucy you can email
at

wwindancer@hotmail.com

Or
Visit our website
@
That Bird Place