We are not a pet bird supply shop, but do have items from time to time as listed below.
Comfy Tents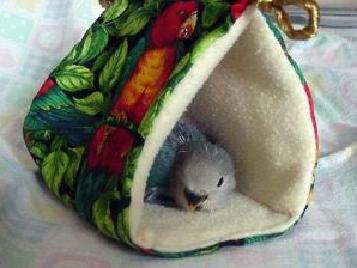 [Baby not included :-) ]
These Comfy Tents are hand made and are machine washable.
Since these are something most people like to have for their birds, we plan to keep them in stock. We use a lot of them ourselves. We might make them as they are ordered.
We do not guarantee any particular color or print, but we always make them with colorful material. At times, as with this one, we find parrot print. The inside is lined with either fleece or flannel to keep you birdie baby comfortable.
Metal clips or C-links not included.
Small [Lovebirds, Parrotlets, Linnies, and other similar sized birds]
$5.00 each plus a flat rate of $3.00 shipping and handling. Multiple orders add just $1.00 each for shipping.
Medium [Senegals, Meyers, Sun Conures, Moustache and Indian Ringneck Keets, etc.]
$8.00 each plus $3.50 shipping and handling. Multiple orders add just $1.25 ea. for shipping.
Large not available at this time.
Medium Size Foot Toys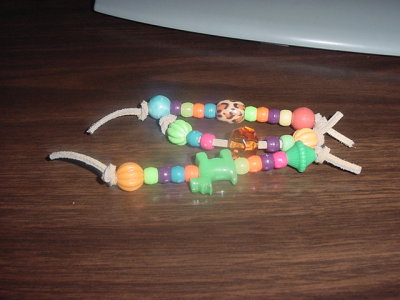 Note; Our Green Cheek Conures tend to take these a part easily, but our Lovebirds, Senegal, and Moustache Keet play with them for hours. Made of plastic beading and leather. We will have other "designs" such as circles and mutli-strand available as we make them.
$1.25 each or 3 for $3.00 plus shipping depending how many your order.
Cages
Cage availability is on a supply and demand basis. We can order cages for our customers who would like to buy a cage through us for their new bird. At times we might have something in stock.
Also, we pick up second hand cages as often as the become available to send home as starter cages for people needing a cage for their new baby. We do not pick up junky cages. They are always in good condition and just need to be cleaned up, and we do that.
Payment
Paypal with buyer paying fee, checks, [must clear before we mail your item ] money orders, and cash and carry.
RETURN TO OUR HOME PAGE
http://thatbirdplace.tripod.com